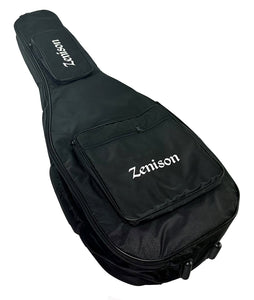 Zenison Premium Guitar Bags: The Perfect Blend of Style, Protection, and Comfort
If you're a music enthusiast who cherishes their guitar, you know how crucial it is to keep your prized instrument safe and sound while traveling to gigs, rehearsals, or just storing it at home. That's where Zenison™ Premium Guitar Bags come into play.
Crafted with meticulous attention to detail, Zenison™ guitar bags are designed to cater to the needs of professional musicians, passionate hobbyists, and beginners alike. The bags are tailored to fit most electric and even some acoustic guitars, providing a secure fit and robust padding to shield your instrument from scratches, dings, and dust during transportation and storage.
Robust and Durable Exterior
The guitar bags boast a high-quality, tear-resistant Virgin Polyester 350 GSM fabric exterior, providing reliable protection against external impacts and weather elements. Whether you're a gigging musician or a frequent traveler, this rugged construction ensures long-lasting performance and endurance, making it the perfect choice to safeguard your guitar throughout your musical journey.
Padded Interior for Optimal Protection
The interior of the Zenison™ guitar bags is lined with gentle, 60 GSM Coated Polyester Fabric and generously padded with 8 mm EPE Foam. This combination cradles your guitar securely, offering shock absorption to reduce the risk of damage from accidental bumps or minor falls.
Multiple Compartments for Organized Carrying
Organization is key when carrying musical accessories. The guitar bags come equipped with 2 pockets and 3 separate, zippered compartments, providing ample space for your sheet music, picks, cables, tuners, and other essentials. Additionally, the thoughtful inclusion of a side Bottle Pocket, constructed of cushioned expandable mesh material, allows you to conveniently carry water bottles up to 16" in circumference.
Comfortable and Adjustable Straps
To ensure ease of transport, Zenison™ guitar bags are equipped with comfortable padded carry handles and backpack-style shoulder straps that can be adjusted to fit your preferred carrying style. The addition of unique hand loops further minimizes strain on your back, ensuring that whether you're walking, cycling, or using public transportation, our guitar bags will remain secure on your back while maximizing overall carry comfort.
Heavy Duty Zippers for Easy Access
We understand the importance of smooth and reliable access to your guitar. That's why we chose robust, #10 mm, Zinc Zippers that will ensure easy and hassle-free operation for many years to come.
Easy Maintenance
Cleaning the Zenison™ guitar bag is a breeze. The fabric exterior can be wiped down with a damp cloth, and the interior lining can be easily removed and hand-washed to keep your bag looking and smelling fresh.
In conclusion, Zenison™ Premium Guitar Bags combine style, supreme protection, and comfort into one exceptional package. Whether you're a seasoned musician or just starting your musical journey, these guitar bags are an investment that ensures your beloved instrument remains safe and ready to rock whenever and wherever you are.
---